4 Bedroom Self Catering Cottage Dorset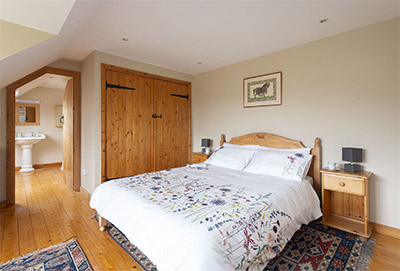 This page outlines the Dorset holiday accommodation delights of Greygles, our Self Catering Cottage in Dorset.
The sitting room has the cosy delight of an open fire and looks out to panoramic views of open fields and rolling hills.
The dining room with its antique table easily seats 8 people, allowing you to entertain and simply spread out.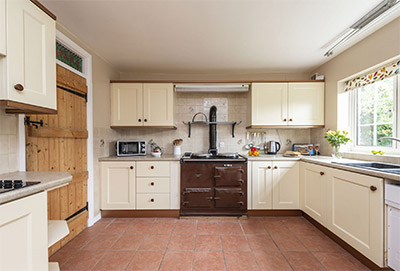 Superbly equipped Dorset holiday accommodation kitchen.
The kitchen is well equipped for both the would-be chef or the "I'm on holiday" cook, having both an electric hob and oven and an Aga cooker. There is also a microwave, fridge, freezer, and dishwasher plus a walk-in larder with washing machine. What more could you ask for in the kitchen of a self catering cottage?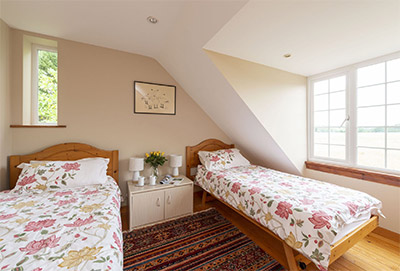 And now to bed
Upstairs there are 3 bedrooms (1 double, 1 twin, 1 single) while downstairs boasts a double bedroom – a big help if climbing stairs is a bit of problem. The downstairs bedroom has a king-size bed, large built-in cupboard and antique chest of drawers. A full bathroom with bath, basin and toilet is immediately adjacent.
The master bedroom upstairs offers a king-size bed, antique furniture and lovely views.
The bathroom, en-suite with the main bedroom, is the funkiest room in the house.
Near the front door and just by the stairs, thus convenient for those staying in the twin and single bedrooms, there is a further bathroom with shower, basin and toilet.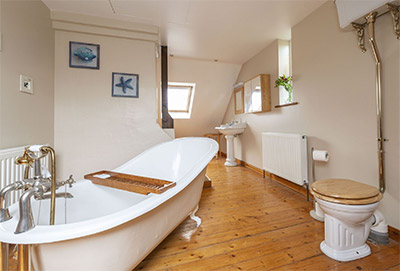 Dorset home from home Everything within the cottage is there to make the place feel like a home away from home. We want to bring you to a relaxed holiday cottage or weekend break cottage in Dorset, allowing you to escape from the hurly burly of busy daily life.